Activity - Completing the Coaching Work Wheel
You can now follow the same approach towards evaluating your work or current job role. The coaching wheel for work frames some key areas that help you to define what you want from your work, the organisation you work for and your current performance.
You can base this exercise on your current job role or working life. If you are in between jobs or at the start of your career, try to work through these questions with your ideal working life in mind based on your chosen industry or sector where you have already identified what this might be.
The areas we will examine in this exercise are:
Work-Life Balance
Job Satisfaction
Income
Working Relationships
Working Environment
Your Performance
Work Culture
Career Development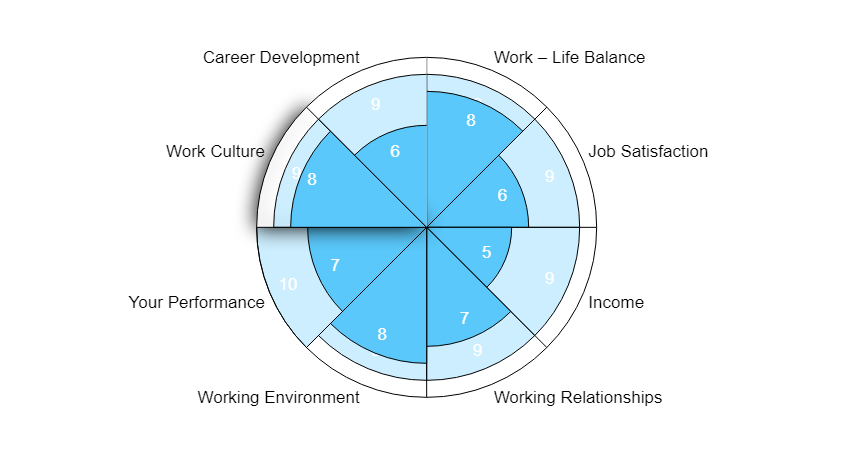 Click this link and name your wheel as you will be able to return to this over time so make a note of the name you use, your browser and the PC that you are using.
Start to work through the segments of the work wheel so you can start to review and reflect on key areas of your life that you may wish to reflect upon or possibly change. The key to gaining maximum benefit from this exercise is to be totally honest with yourself so that it can provide you with a visual snapshot of your life and start to identify some areas for change.
Examine each area and reflect on each section of your working life in turn and give yourself a score according to your level of satisfaction in each area.
The scale runs from 1 (very dissatisfied) to 10 (happy and very satisfied). Rate each area, colour them as you wish and once you have finished you will have an accurate visual interpretation that accurately reflects your life at this moment, and how you are feeling about yourself right now.
Once you have completed this activity, please park the results as we will revisit them later in this session.
Complete and Continue